Sign up with Full Script for 25% off best-quality supplements
When it comes to eating well and taking the supplements you need, I know first hand how expensive this gets.
As an approved affiliate of Full Script, I am pleased to offer you 25% off your order. (Please note this is for individual use only and large volume orders will result in permanent banning of your account.)
Click on the banner below to register at the Full Script site. Your discount will be automatically applied to your cart. Please contact me if you have any questions.
Why order from my Full Script store?
I have been ordering from these guys for ages because I  know I am guaranteed to get high quality supplements.
Be careful of counterfeit supplements on Amazon. Never buy cheapo supplements from a conventional grocery store or drugstore, they have been proven to be garbage.
Always make sure your supplements are MADE in the US and not just "distributed by" a company in the US. Otherwise you're getting stuff from China with no oversight of purity or quality.
Here are other reasons to go with Full Script:
Quality-tested products that are handled and shipped in climate-controlled environments, keeping your treatment plan stored properly and kept fresh.
Shop over 325 brands, with everything from healthy snacks to non-toxic body care and home goods.
Always stay connected to your treatment plan with your Full Script account. Keep your
recommendations and previous orders at your fingertips.
Set up Auto-Refill for every 30, 60, or 90 days
Ordering Online for your supplement discount
Check your email for an invite from Full Script to set up your account (if you can't find the email in your inbox, check your spam folder).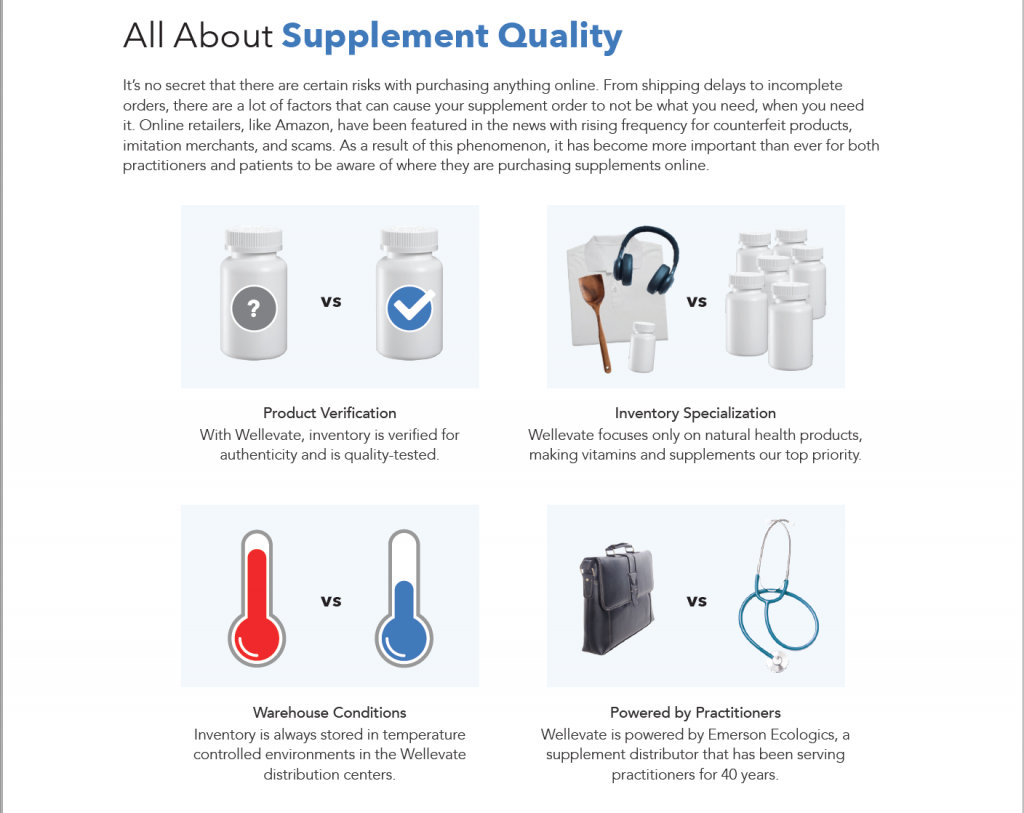 ---
Full Script – The Holistic Practitioner's Preferred Source
Full Script is your one-stop-shop for professional-grade nutritional supplements. Full Script offers over 275 brands of supplements, vitamins, prescription medications and natural health products. Whether you're in the healthcare industry or are just looking for products to improve your health and well-being, Full Script has the products you need.
Full Script  gives healthcare practitioners a convenient and cost-effective way to purchase naturopathic products such as:
Nutritional Supplements

Thousands of discount supplements and natural remedies, all with complete nutritional information. These include priobiotics, sleep medications, immune system function, adrenal support, sports nutrition, and more. Emerson is your favorite supplement store.
Vitamins and Minerals

Emerson's vitamin & supplements store has over 2000 types of vitamins including vitamins for children, multivitamins, alphabet vitamins, and minerals such as zinc, calcium, and iron. Brands include Biogenesis, Davinci Labs, and Country Life.
Herbs

Herbalists: Emerson carries a wide variety of herbal medicines from brands such as Aura Cacia, Banyan Botanicals, Nature's Way, Gaia Herbs and more.
Personal and Skin Care

Includes facial care for sensitive skin, cosmetics, feminine hygiene, massage oils, baby care and other products.
Homeopathic Remedies

Homeopathic medicines for every condition. If you are in the homeopathy field or are an alternative medicine practitioner, there is a great selection for you.
RX and Lab Services

Prescription medications are now available for purchase by those with state medical licenses or DEA certificates. Also, Emerson now offers Lab Services including the SIBO Breath Test, Metabolism, Adrenal, Hormonal, and Gastrointestinal lab testing. Learn more about their Lab Testing Services.
Acupuncture & Oriental Medicine (Eastern Medicine)

Includes acupuncture needles, acupuncture supplies, and Chinese traditional medicines.
Pet & Medical Supplies

Emerson offers a complete range of pet medicines and other medical supplies including procedure masks, exam gloves, bandages, chiro head rolls, exam table paper and more.
Full Script Quality Assurance
Full Script cares about quality. To that end, they've developed the Full Script Quality Program, which ensures the quality of the brands you recommend or use.
To get your 25% off, visit my Full Script store to sign up or login in. 
Save
Save
Save