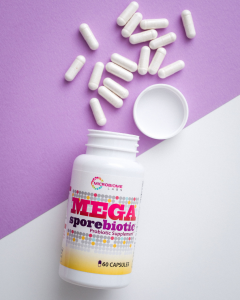 I am pleased to now offer discounts through Microbiome Labs, makers of MegaSpore, the best probiotic  I personally have come across in two decades.
In order to join my members-only FHN Insider's Club and receive discounts, please visit this link and enter the code FHN.

Using MegaSpore safely
When MegaSpore first came out I read some very negative responses people were having. I had one as well — it flared up my symptoms. But I took this as a good sign.
I waited to recover and then started with a 1/4 capsule a day for a week or two, slowly working my way up in dosage until I could take one to two capsules with no symptoms.
MegaSpore is the only thing that has kept my psoriasis in complete remission. There have been a couple of periods where I stopped taking it and my psoriasis returned. Then I would have to start over with the protocol of gradually increasing the dose.
I'm someone whose microbiome had every conceivable hit in infancy and early childhood, so I figure I have some permanent microbiome damage and MegaSpore helps keep things in better order.
I also don't need to take two capsules a day. I have been able to maintain remission of my psoriasis on one capsule every one to two days.
Please note that this does not mean you will have the same results as autoimmunity can have multiple different triggers depending on the person. But along with glutathione and a diet free of gluten, dairy, and egg (egg is my main trigger for psoriasis), it keeps me symptom-free.